You are here2015 Yellow Pine Music Festival and Dual Sport Ride
2015 Yellow Pine Music Festival and Dual Sport Ride
---
I think I was on time to Big Twin BWM where we met up and introduced ourselves. Bo, Norris, Reg, Larry, Dan and myself were present at the meetup. Big Twin put on some coffee for us, we checked out the bikes in the for sale lot, had a brief meeting and were on our way. We rode up to Bogus Basin, then Larry led us over the Boise Ridge into Placerville where we met up with Doug. From there we headed into Garden Valley for fuel and a quick bite. Heading East on the Banks/Lowman highway for a few miles, we then turned North onto Scott Mountain Road/FR555. Its a bit of a climb through a narrow canyon but after a few miles we are back into the trees headed for the saddle intersection where you could visit Scott Mountain or the Deadwood Lookout towers. Down the other side to Deadwood Reservoir, we take a break just below the dam where the water is flowing from the gates.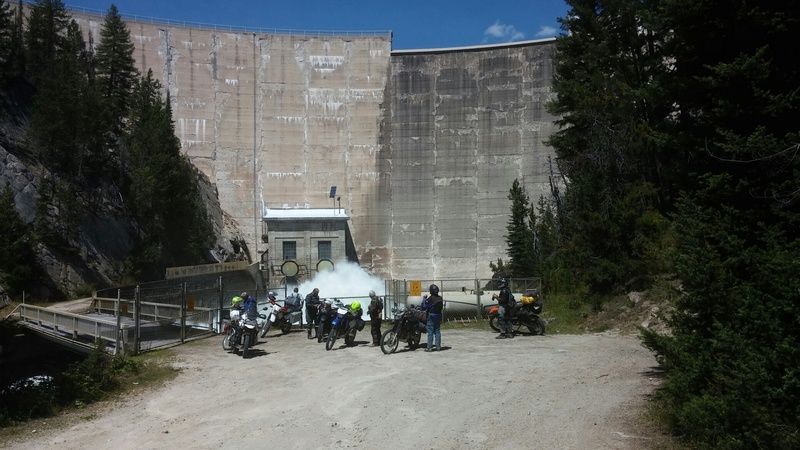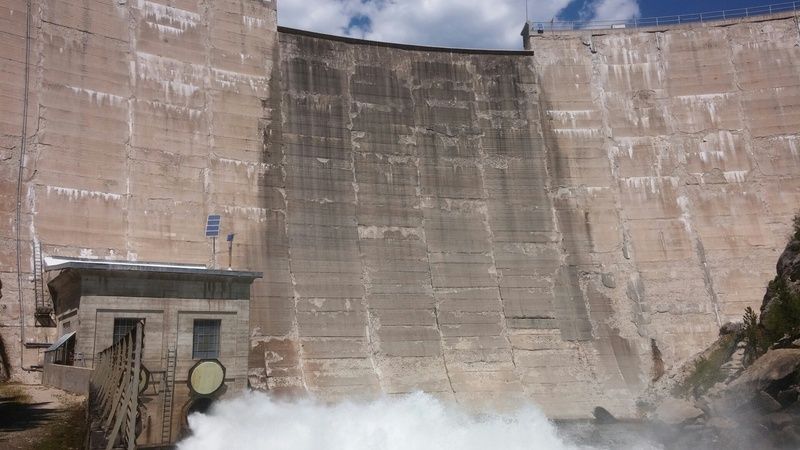 Again we climb up and past the landing strip and down to lake side. Dan somehow had a flat front tire, so we stopped and offered a hand or advice or just gave him a hard time. He was back on the road quickly so we continued onto the intersection at Landmark.
Bo departed at Landmark to camp with his family, so we continued up the Johnson Creek Road to Yellow Pine. I think the dust became thicker as you neared town due to the festival traffic. We rolled into town to find Sam who had reserved us a nice camping spot near town but off the main road. Thanks again, Sam. I took a dip in the nearby creek to cool off, cracked open a beer, and had a bit to eat before heaing into town for the nighttime festivities.
Saturday morning after the $5 community breakfast of two flap jacks, ham and egg scramble, and a cup of joe, we suited up and headed in search of the old mining town Cinnabar. Ron rode up early that morning to join in on the fun. The road out is a nice graded level 2, but when you turn left on Sugar Creek I think it might near a level 3 difficulty. We had one creek crossing where almost everyone made it. I'll let Reg share his story if he cares to share.
Doug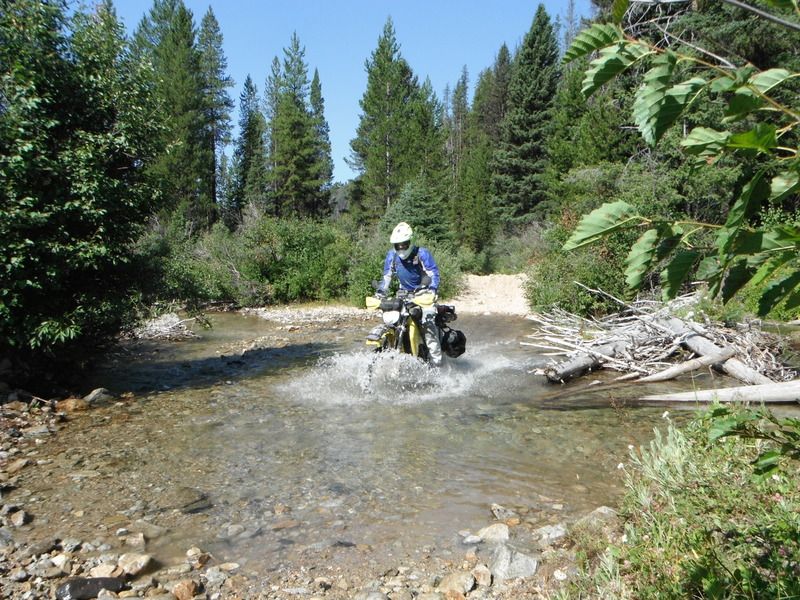 Norris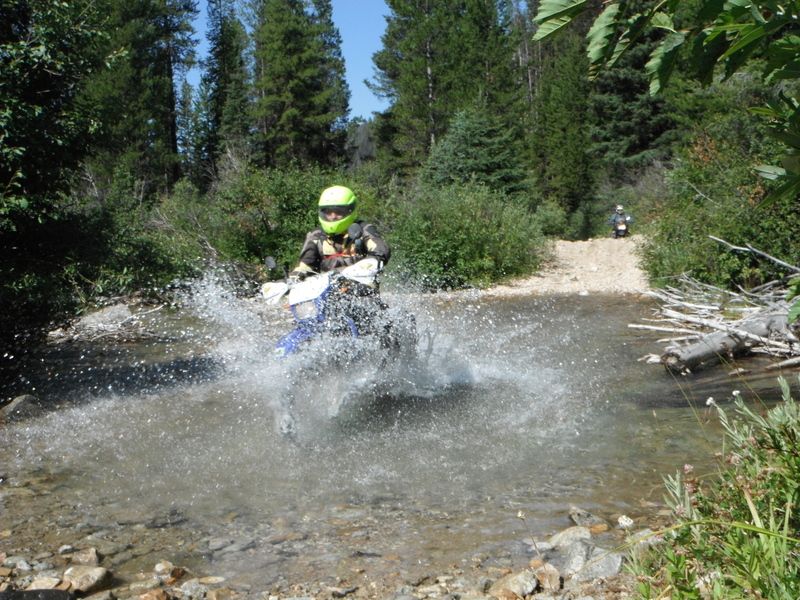 Reg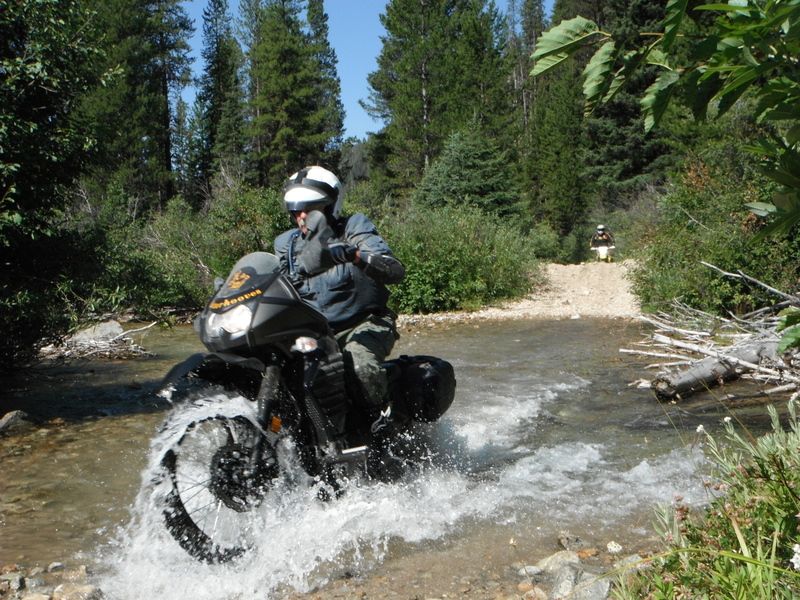 Sam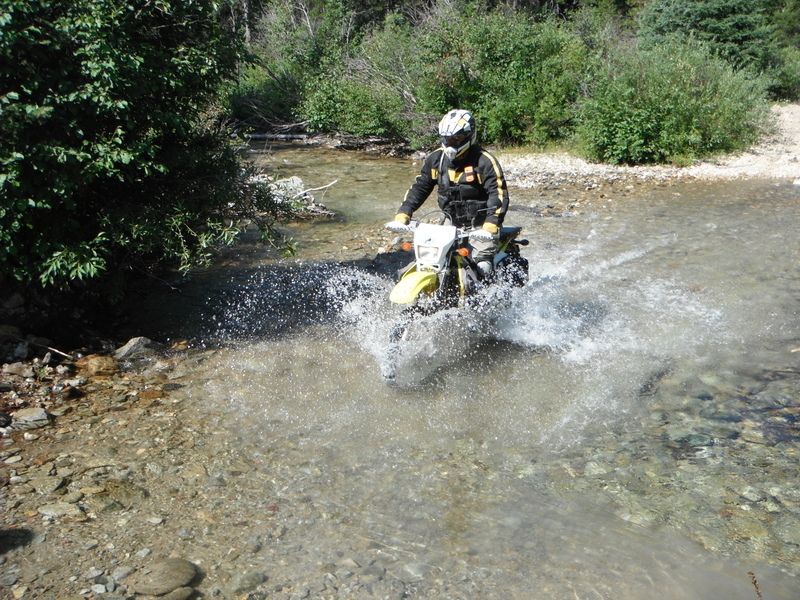 Dan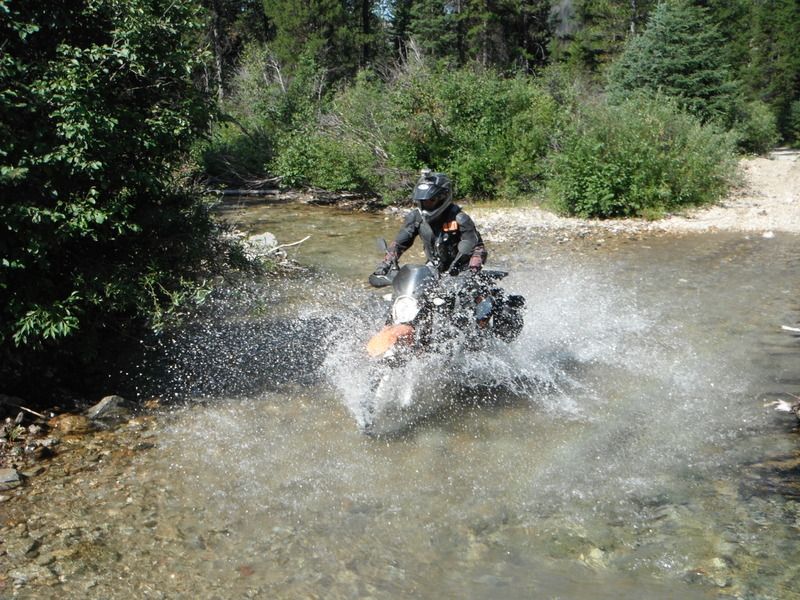 Up the sandy trail, past the fallen timbers, around the rocky corner brings us to the entrance to Cinnabar. We each took a little time to explore the buildings in the area all while being cautious of rusty metal and degrading foundations.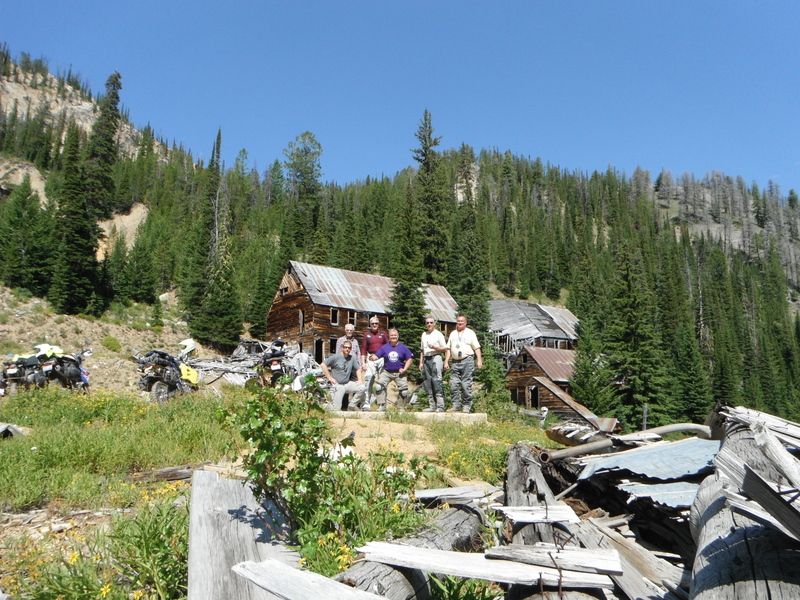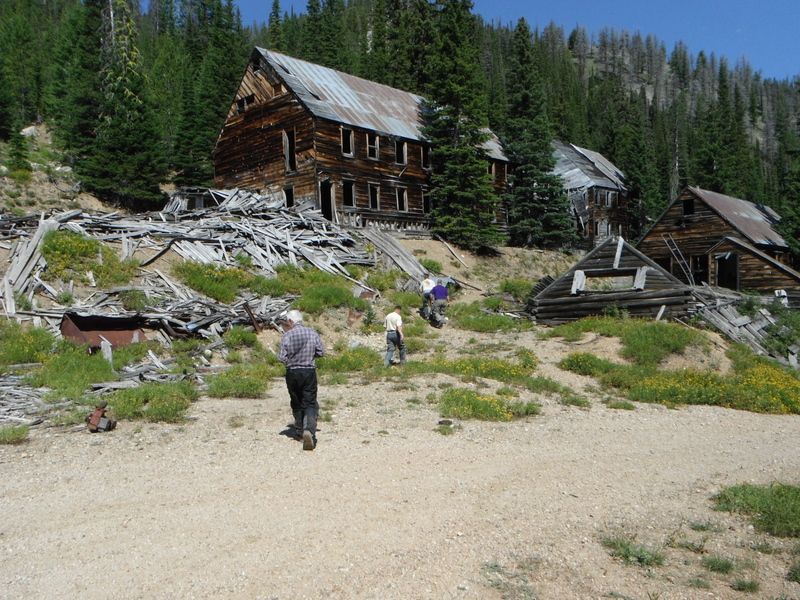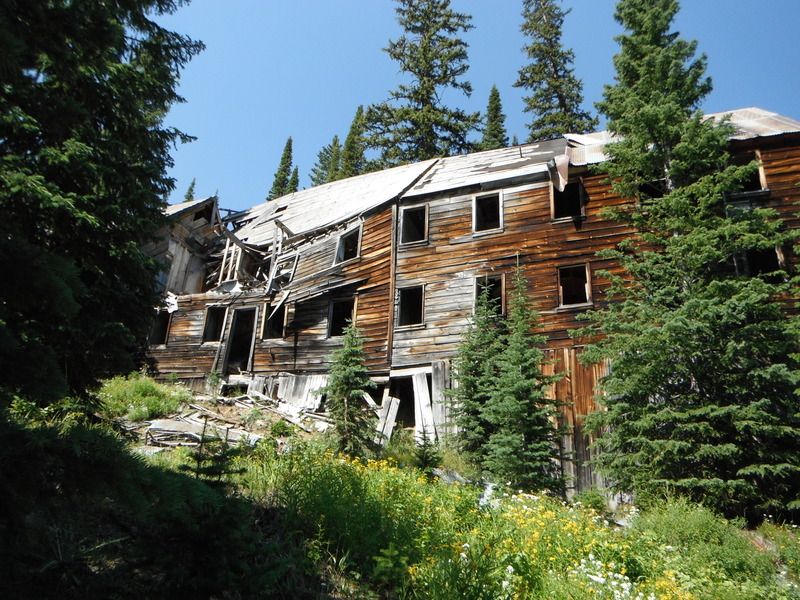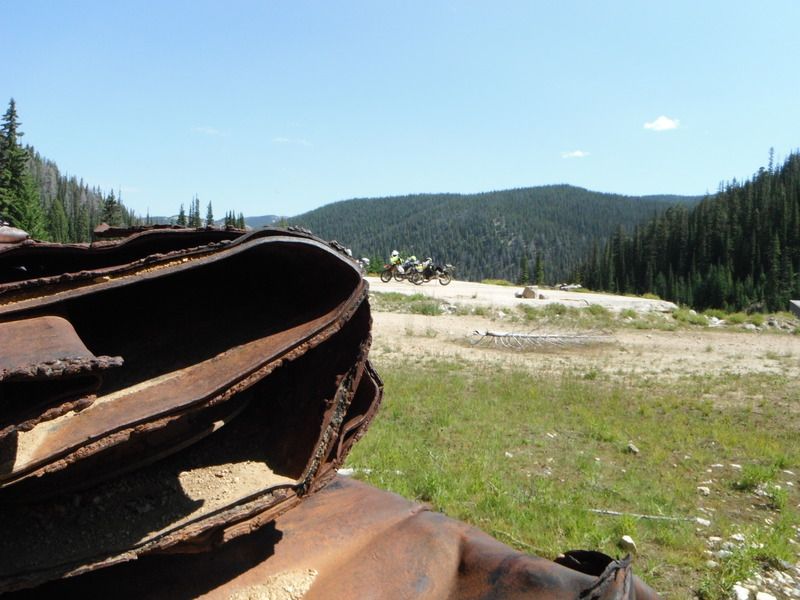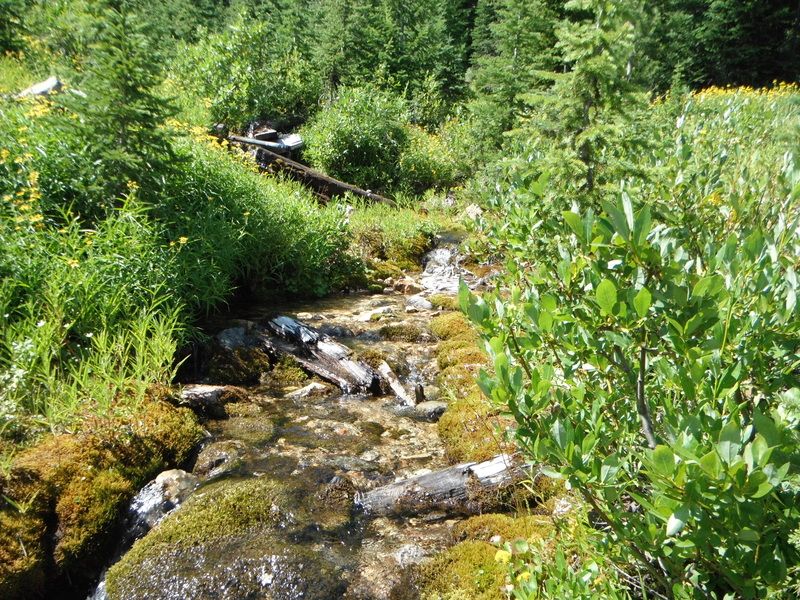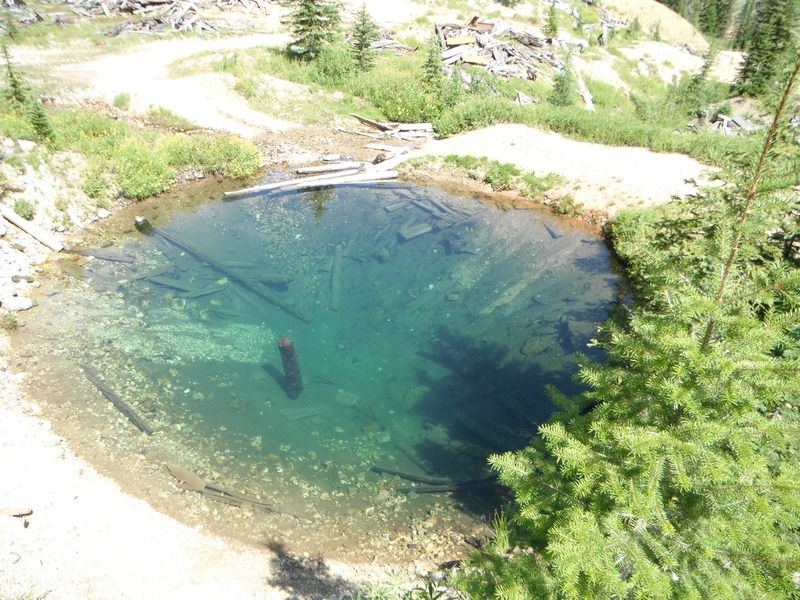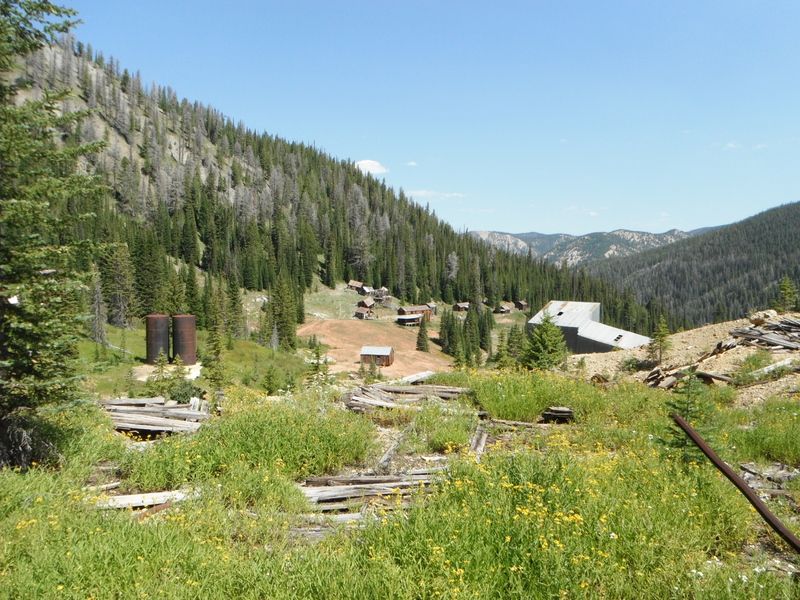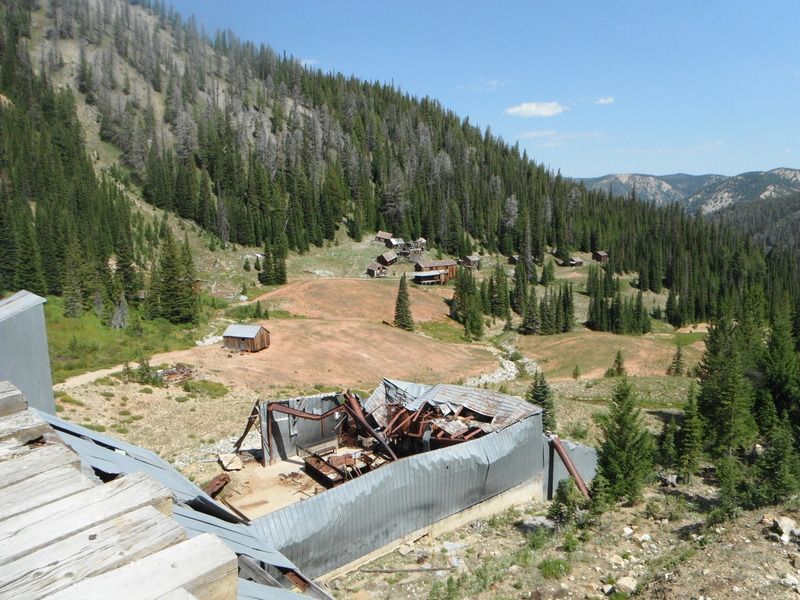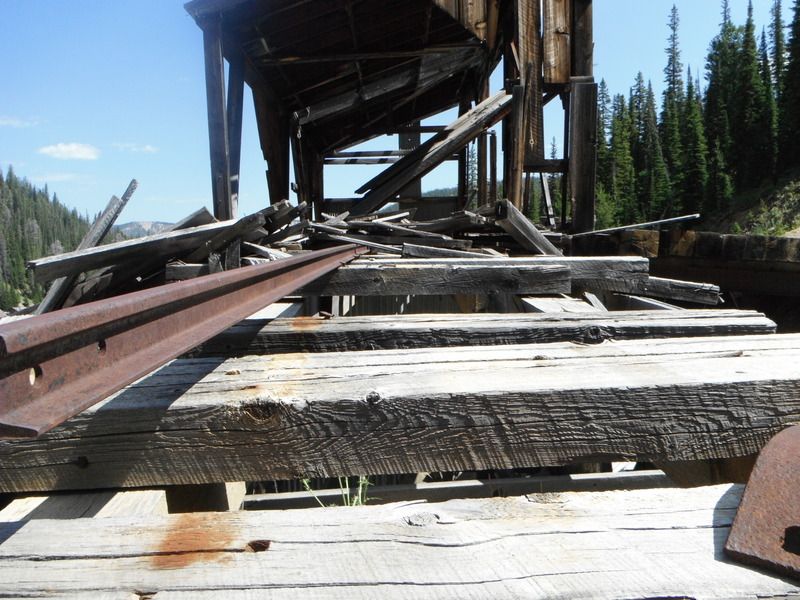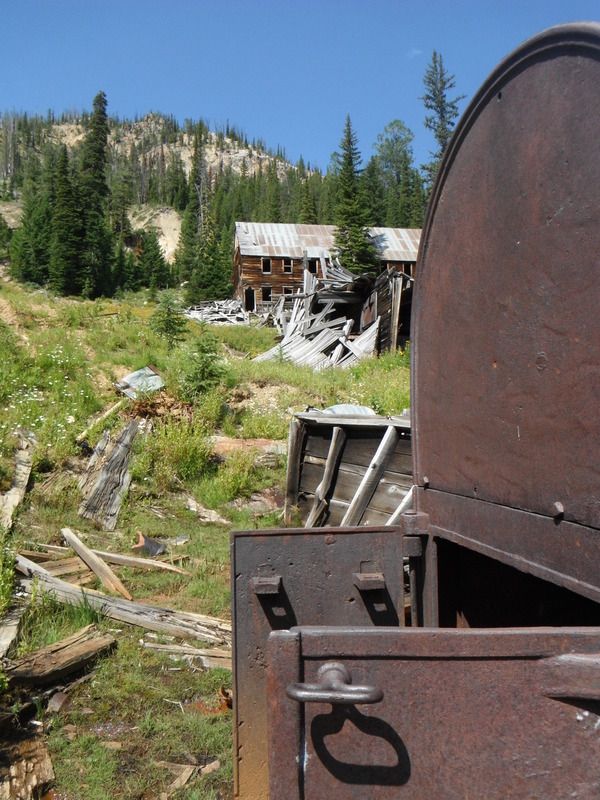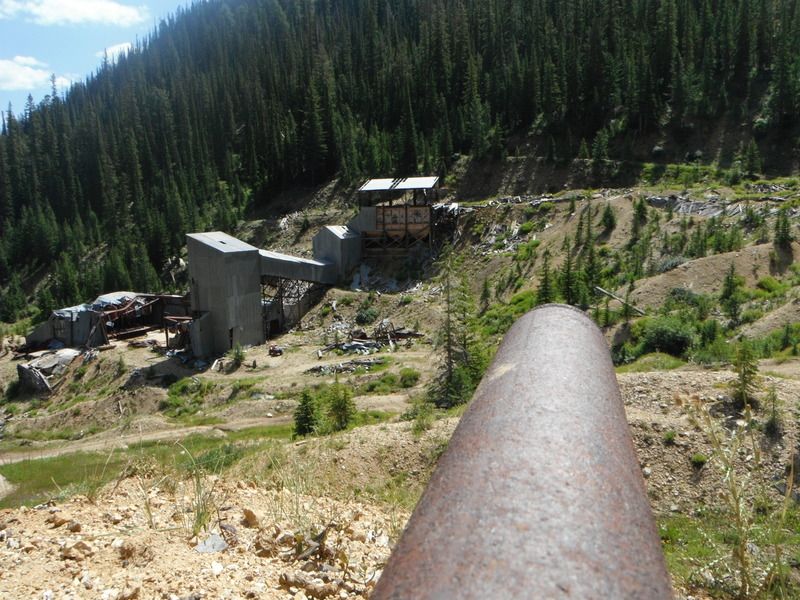 After heading back down the trail, we traveled further along the Stibnite road to the viewing platform of the Yellow Pine Pit.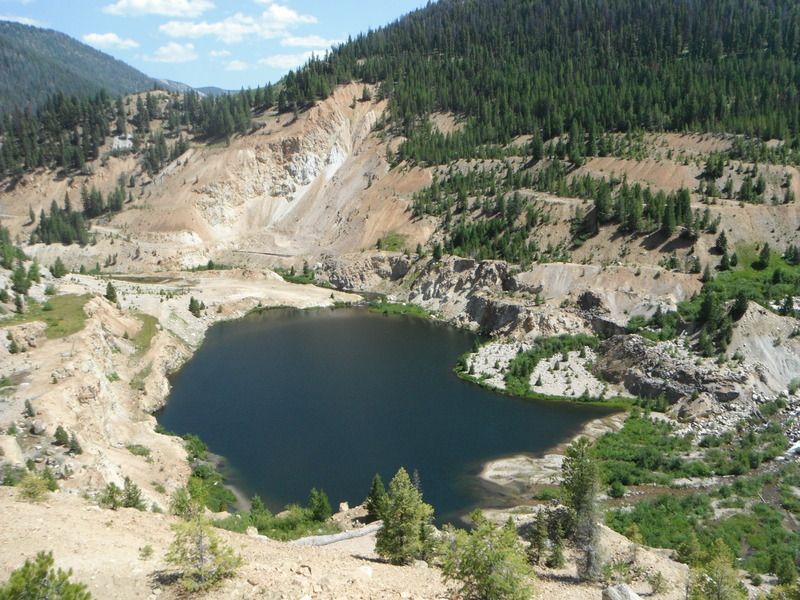 From here we rode up to Monumental Summit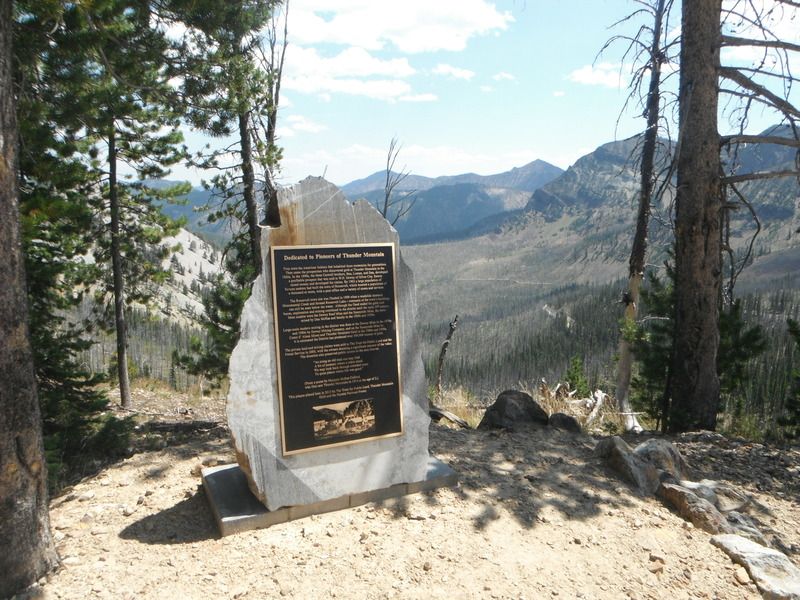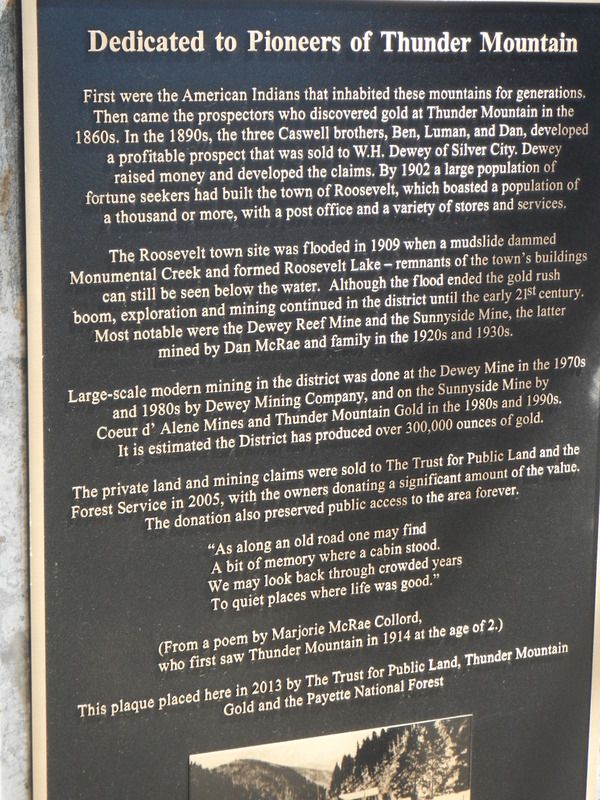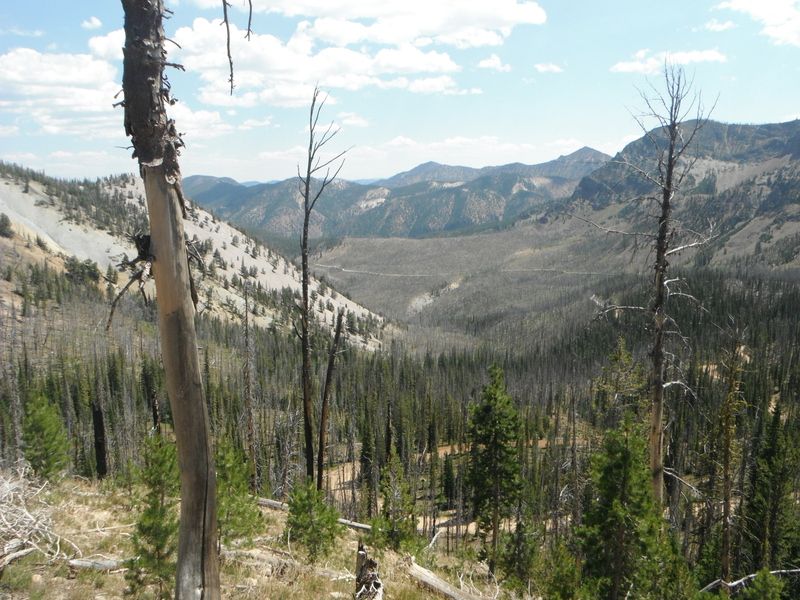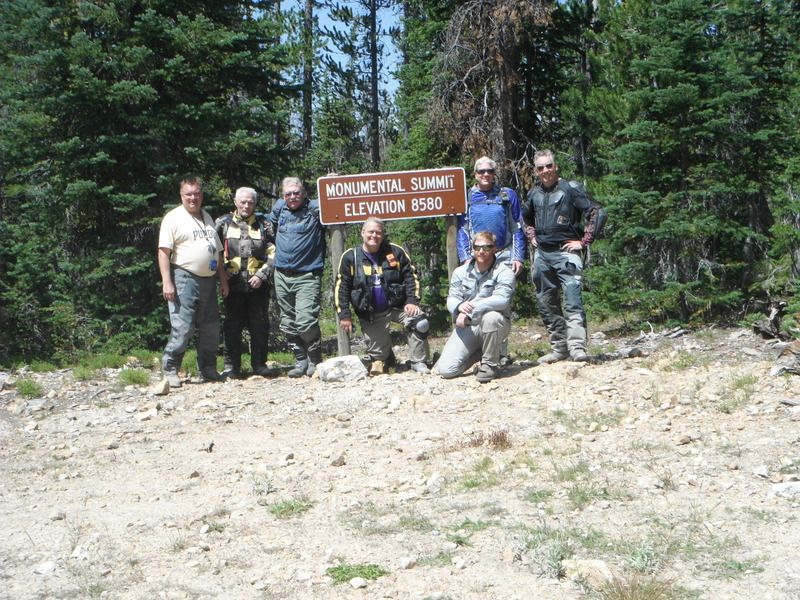 We continued over the summit down a few steep switchbacks to try and find some more old mining structures and possibly Rosevelt Lake. We found the trailhead and estimated the lake was about a mile hike.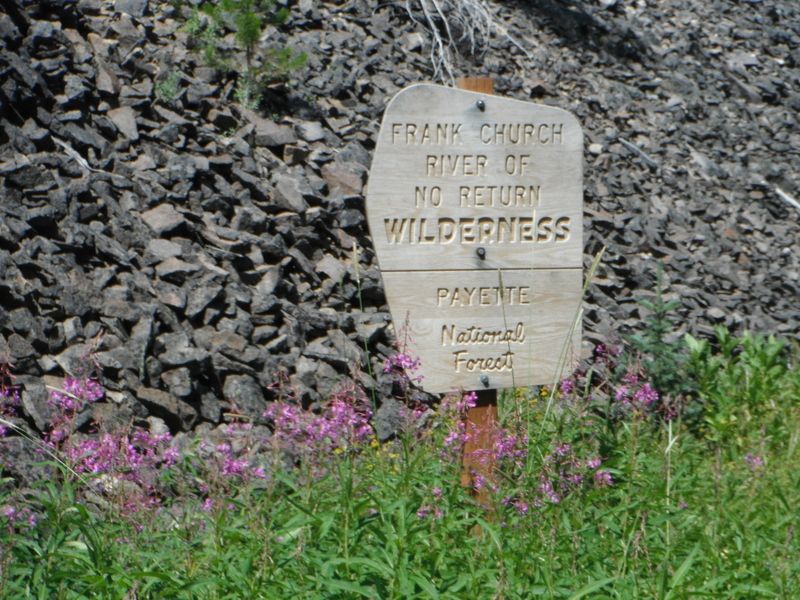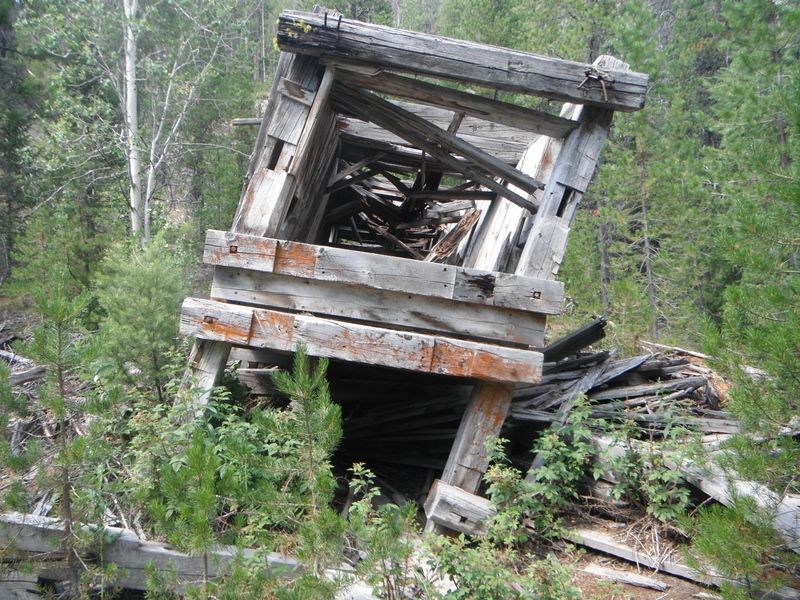 some cement barrier?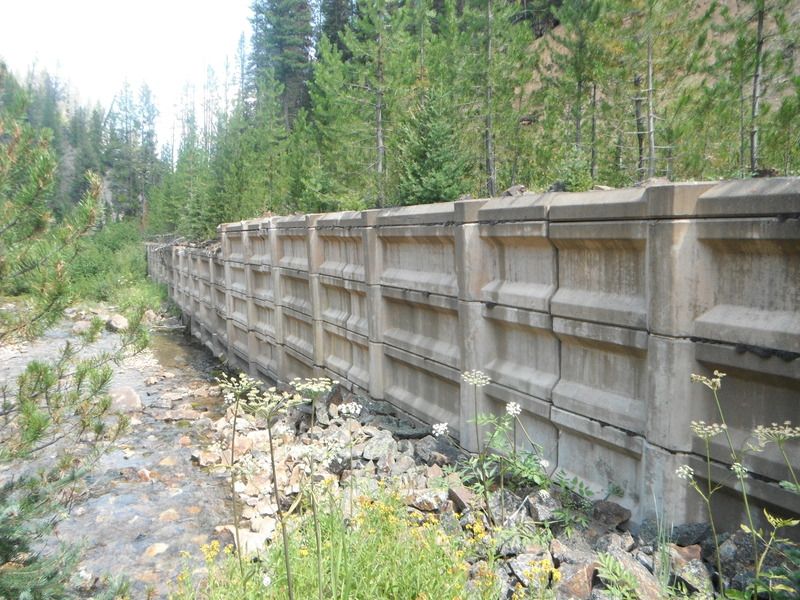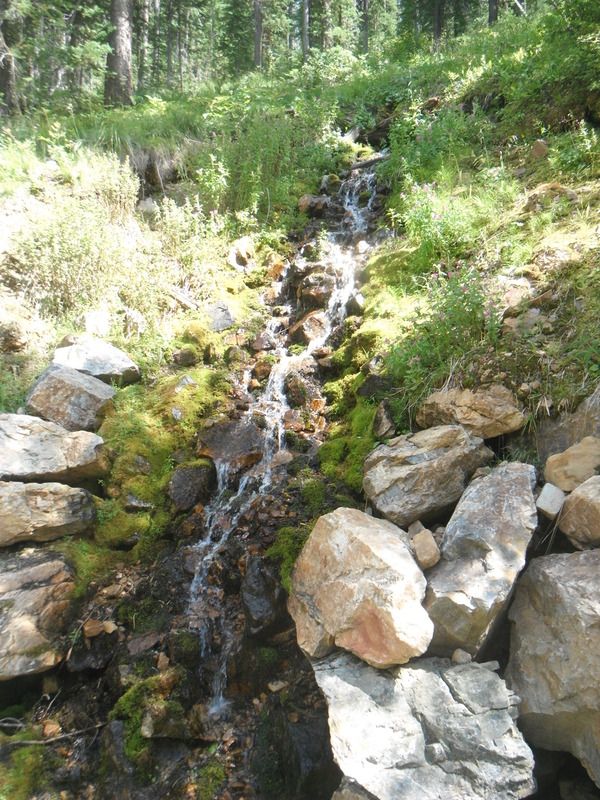 Back down the road we had to clear off a tree that had freshly fallen, then skipped back to camp to cool off in the creek with a cold beer.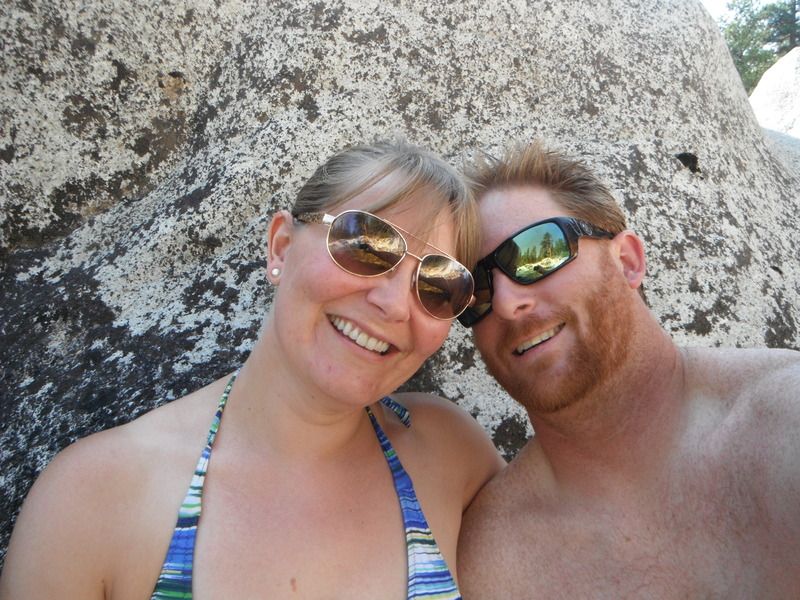 I think they call this place the Devils Bathtub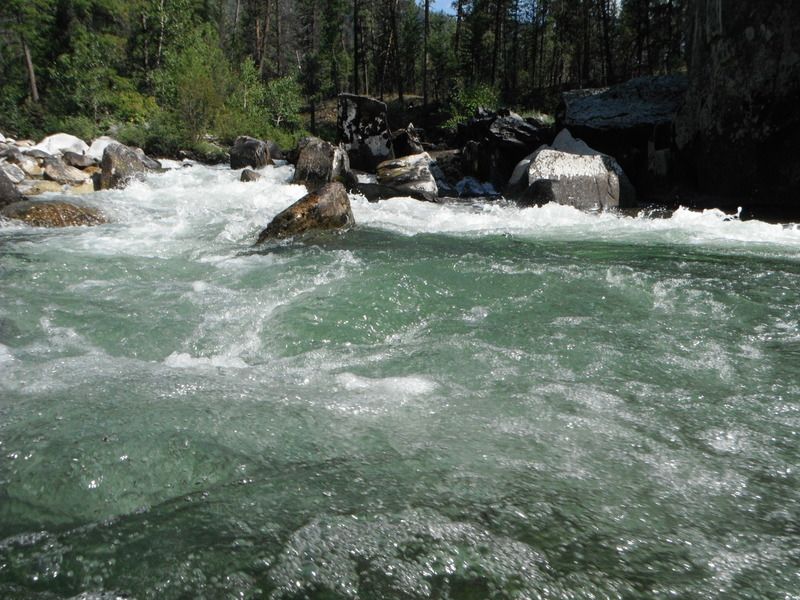 Back at camp we shared stories and laughs. Dave rode up and met us for Saturday evening festivities.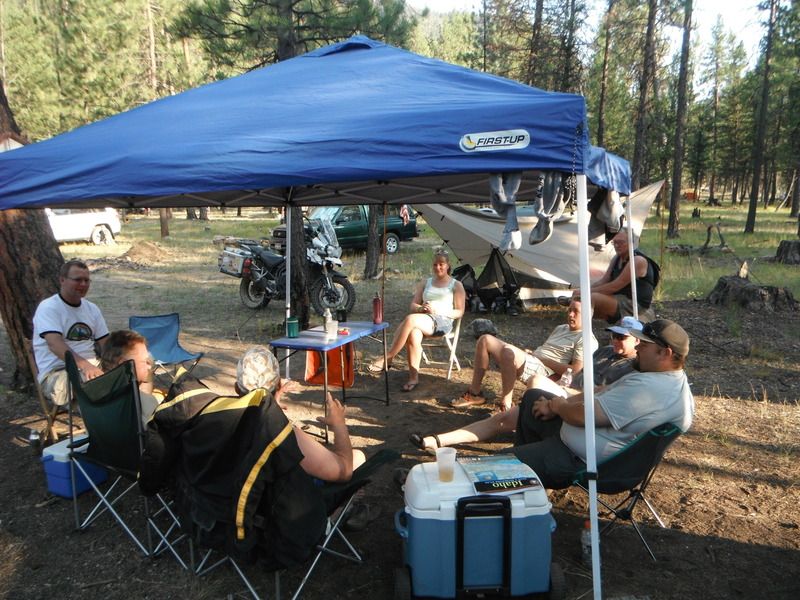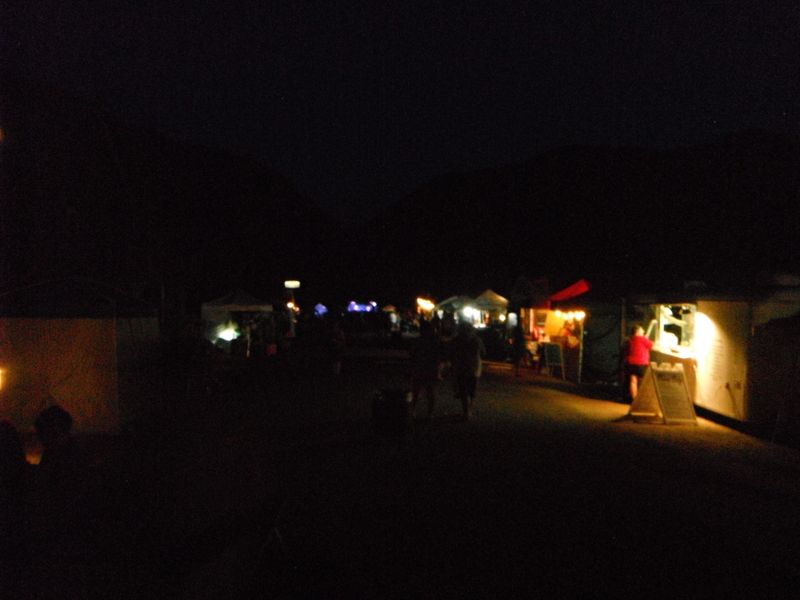 Thank you all very much for attending, I hope you had a good time. Sorry it was so loud Saturday night with hooligans, maybe we could camp slightly further away next time if you like.
--Matt
Please share any stories or pictures, I would appreciate it